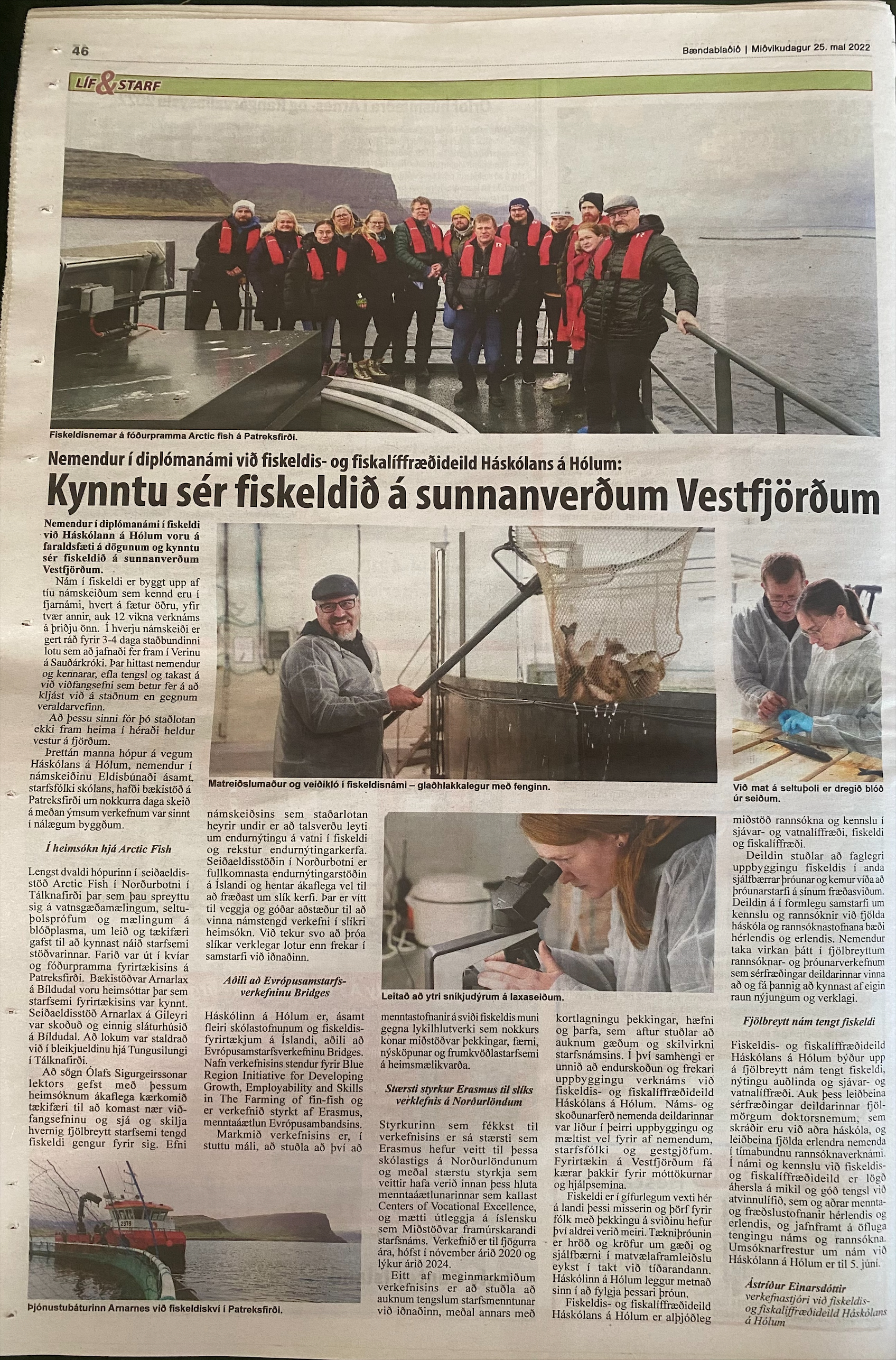 In relation the the Bridges deliverable 6.3 Icelandic aquaculture VET work-based learning pilot, Hólar University aquaculture students will be visiting industry aquaculture sites in the Westfjords, including the Bridges partner Arnarlax.
Studies in aquaculture at Hólar University consist of ten online graduate courses. Each course assumes 3-4 days of physical gatherings at the school, which
usually takes place at Verin in Sauðárkrókur. This time the gatherings will instead take place south in the Westfjords. The students will be presented with a holistic picture of the Icelandic Aquaculture Industry and carry out on-site research and assignments for three days.
Students in the course Eldisbúnaður will become acquainted with fish farms in the south of the Westfjords together with the school's employees, a total of thirteen people. The group will spend most of the time on the Arctic Fish juvenile farm in Norðurbotn in Tálknafjörður, where they will have hands-on experience with taking water quality measurements, salinity tests and blood plasma measurements.

The group will also be given the opportunity to become more familiar with the operation of the station. The trip will also include Arnarlax's bases in Bíldudalur where there will be a tour of the company's operations, both at the juvenile farm Arnarlax in Gileyri and the slaughterhouse in Bíldudalur.
Edit, news articles about the student trip:
https://www.feykir.is/is/frettir/nemar-i-fiskeldi-vid-haskolann-a-holum-heimsottu-vestfirdi
http://www.bb.is/2022/05/haskolinn-a-holum-i-ferd-um-vestfirdi/